Operating with Integrity and Accountability
Solaris is committed to a sustainable approach to exploration by acting ethically and with integrity and adopts a Participatory Mining model as the foundation for its Environmental, Social and Governance (ESG) strategy. Transparent and responsible practices are critical to our long-term success. We prioritize health and safety and strive to create positive economic and social benefits and improve the overall quality of people's lives in a sustainable manner, while being responsible stewards of the environment.
Participatory Mining
Inclusive development model based on transparency, dialogue, and trust relationship between the government, communities and the Company with the objective of sustainable socio-economic development of community and people together with the Project.
Strategic Alliance governed by Board of Directors from host Shuar centres; community development alongside project development, with investments in health, education, training, infrastructure, environment, entrepreneurship, gender equality, labor, cultural and human rights and security.
Sustained relationship based on trust, dialogue and good faith has enabled the communities to voice their consent, legitimizing the Warintza Project.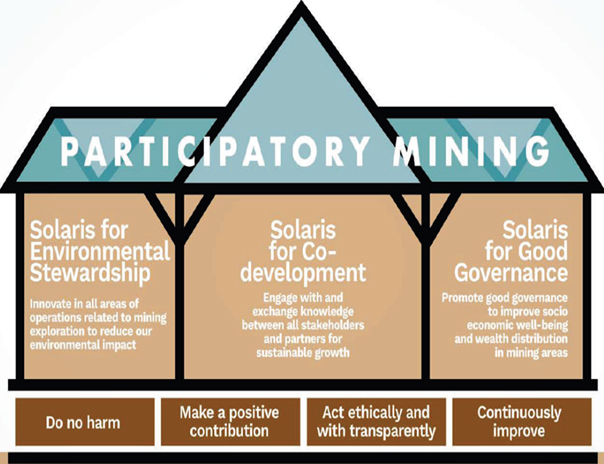 Our Sustainability Policy embeds our commitment to managing ESG risks across all of our operations. This commitment, shared by all of our employees and across the entire company, is rooted in our core values and implemented through Solaris' governance structure and management systems. This commitment is further reinforced by our participation in the UN Global Compact (UNGC) and our commitment to incorporating the universally accepted sustainability principles that take actions that support broader UN goals, including the Sustainable Development Goals (SDGs). Solaris positively contributes to all 17 Sustainable Development Goals. For more information, please visit the "United Nations SDGs" tab.