Share Structure1
| | |
| --- | --- |
| Common Shares Outstanding | 148M |
| Stock Options | 11M |
| Fully Diluted Shares Outstanding | 159M |
| Cash | US$15M |
1 Capital structure as at Aug 9, 2023 and cash balance as at Jun 30, 2023
Share Distribution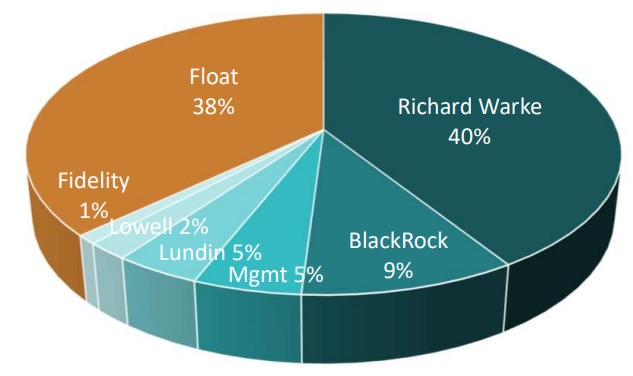 Shareholder Information
For inquiries related to shares, share certificates, etc, please contact our transfer agent listed below:
Transfer Company:
Computershare Investor Services
8th Floor, North Tower, 100 University Ave
Toronto, ON, Canada M5J 2Y1
corporateactions@computershare.com
1-800-564-6253
Equinox Gold Shareholders – Receiving Your Solaris Shares
Solaris was formed in August 2018 as a spin-out of Equinox Gold Corp.'s copper assets (formerly known as Solaris Copper Inc.). Sixty percent of the shares were distributed to Equinox Gold shareholders, who received 1/10th of a Solaris share for every EQX share held, with the remaining shares held by Equinox Gold as a long-term supportive shareholder. Equinox warrants, options and restricted share units were also adjusted pursuant to the arrangement. If your Equinox Gold shares were deposited electronically in an online account before August 2, 2018, you won't need to do anything to receive your Solaris shares. The conversion would have happened automatically and the shares will appear in your account. Solaris is publicly listed on the Toronto Stock Exchange under the trading symbol "TSX: SLS" and on the OTCQB Venture Market under the symbol "SLSSF".
If you still hold physical share certificates or DRS advice for your Equinox Gold shares you need to submit them to Computershare before August 3, 2025 to effect the conversion and get your Solaris shares. You should have received a Letter of Transmittal and instructions by mail or you can download it here. Please do not send your share certificates to Equinox Gold or Solaris Resources. They must be submitted to Computershare, preferably by courier or registered mail.